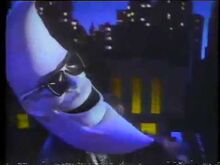 Mac Tonight is a fictional character who appeared in television commercials for McDonald'srestaurants in the 1980s, known for his crescent moon head, sunglasses, and piano-playing. The campaign used the music of "Mack the Knife", composed by Bertolt Brecht and Kurt Weill, in the style made famous by crooner Bobby Darin.
Originally conceived as a promotion to increase dinner sales by Southern Californialicensees, Mac Tonight's popularity led McDonald's to take it nationwide in 1987. McDonald's ceased airing the commercials after settling a lawsuit brought by Darin's estate, although the character was reintroduced in Southeast Asia in 2007.
Ad blocker interference detected!
Wikia is a free-to-use site that makes money from advertising. We have a modified experience for viewers using ad blockers

Wikia is not accessible if you've made further modifications. Remove the custom ad blocker rule(s) and the page will load as expected.