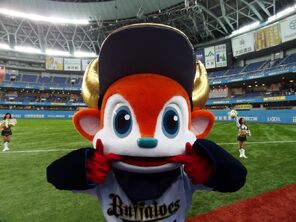 Buffalo Bull is the brother of Buffalo Bell. He has been affectionately nicknamed BuBull or Bull-kun by fans.
He does not share the same popularity that his sister Bell does, but is still loved by fans nonetheless. Silly and energetic, he can almost always be found wandering in foul territory waving and jumping alongside his sister.
Team Information - History
Edit
After years of playing at Nishinomiya Stadium, Orix moved to the 35,000 seat Green Stadium Kobe in 1991. It was later called Yahoo! BB, the first stadium with a naming rights sponsor, and is now Hotto Moto Stadium. It is located on the edge of Sogoundo Park, and green trees surround the natural grass field with Major League dimensions, and it offers a relaxing baseball atmosphere.
Upon the merging of Blue Wave with the Buffaloes in 2005, the new team was called the Orix Buffaloes. The Kyocera Osaka Dome is its home park, with many games played at Hotto Motto Stadium.
Ad blocker interference detected!
Wikia is a free-to-use site that makes money from advertising. We have a modified experience for viewers using ad blockers

Wikia is not accessible if you've made further modifications. Remove the custom ad blocker rule(s) and the page will load as expected.